Contract Manufacturing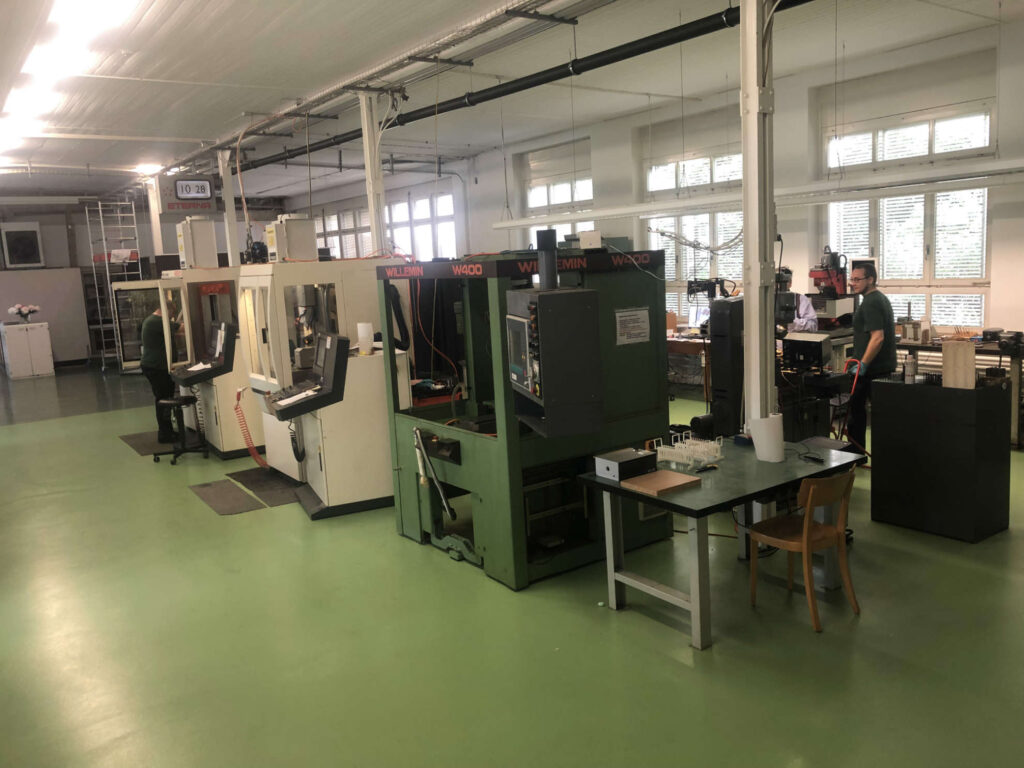 Machinery
As a manufacturer of complex three-dimensional micromechanical turned and milled parts, we have specialised in combining different machining techniques for optimum results: CNC turning, CNC milling and wire erosion. A particular strength is the combined machining of small parts, whereby the pre-milled or pre-turned material is often reworked on wire EDM. This results in components that could not be produced with only one method.
We have optimised all our machines in order to be able to carry out even complex orders efficiently.
Our machinery allows us to produce micromechanical parts for different industries as well as components of watch movements in small series. In this context, it is interesting to know that a mechanical watch movement is made of up to 300 individual parts, all of which are finely machined and fit into a space of only 2cm2.
In addition to traditional machines, our CNC equipment includes the following machines:
Turning:
7-axis bar-turning up to a diameter of 20.00mm, gear cutting in both dividing and hobbing processes, milling with fully automatic material feed.
We also mill internal threads from M0.35 upwards in steel, brass, titanium and beryllium bronze.
5-axis ultra-precision lathe with tapping spindle, bar capacity up to 42 mm, chuck turned parts up to 150 mm
CNC machining centres:
3 axes, spindle speed up to 35'000 rpm
automatic material feed
3 axes, spindle speed up to 40'000 rpm
automatic material feed
3 axes, spindle speed 25'000 rpm
automatic material feed
Wire EDM:
5-axis, precision wire EDM machine with fine cut option, standard wire 0.1 mm
Laser:
100 x 100 mm, maximum workpiece height 150 mm, automatic material feed, engraving, surface structures, 3D processing of dials
4 3D printing systems, both for prototype construction and contract manufacturing
All processing machines are equipped with a zero-point clamping system (palletisation) System 3R. [Zero-point clamping and palletising system / reference system]
For special processes, we also develop processing machines from scratch (e.g. EWS gear cutting machine, weight 1700 kg)
Technical data
Turning
Bar material: ø max. 40 mm
Clamped: ø 150mm
Material: all metals
Milling
Material: brass thickness 0.50 – 7.00 mm, steel (1.1274/1.2842) thickness 0.10 – 1.00 mm, max. part size 36 mm x 41 mm
Wire EDM
With our wire erosion machine with a wire of 0.1mm, we are also able to work on all conductive materials and thus any metal.
Laser cutting:
All materials, 100 x 100 mm, maximum workpiece height 150 mm, minimum spot diameter approx. 30 m
Analysis:
Optical-tactile coordinate measuring machine for quality control and precise measurement of the produced parts.
Classic measuring methods, profile projector, all workstations equipped with stereo-microscopes for control, manual carbide grinding machine with 6 axes, Cup tool measuring system
Other machinery
Manual lathe Schaublin 102 with cross slide with digital display
Manual lathe Schaublin 120 with draw and lead screw
Various manual Schaublin and Aciera milling machines
Training boring machine Hauser 2WA with digital display
CNC milling machine with manual tool change for prototype construction Spindle speed max. 10'000 rpm
Ultrasonic cleaning system for the fine cleaning of the parts
4 assembly workstations with stereomicroscope
Special tools
Our jig and fixture construction department has specialised in the production of assembly aids.
Especially the assembly of smallest components is simplified with a good work preparation by using assembly aids. Depending on the order, we produce special gauges in which the components are correctly positioned and protected during the entire assembly process.
Qualified workforce
Machines and tools are only as good as the people operating them. UhrTeil AG is proud to have a team of dedicated people who have been with us for long time.
All our workshop employees are highly qualified and proficient in 3D-CAM programming and program their machines themselves.